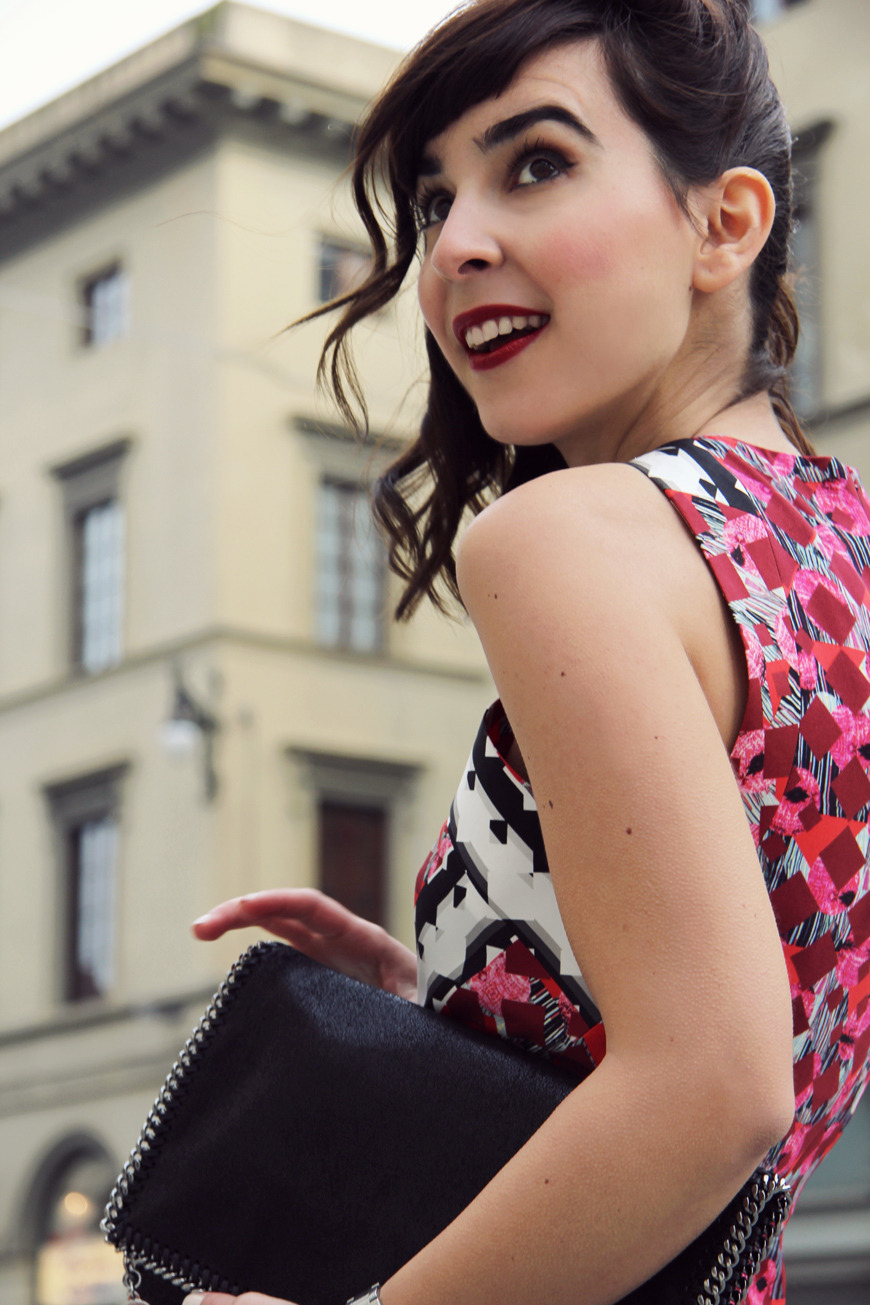 C'était la première fois que j'étais invitée à l'évènement organisé 2 fois par an par Luisaviaroma, à Florence.
Ce rassemblement permet à des blogueurs, blogueuses et des journalistes internationaux, de découvrir les prochaines collections printemps/ été (ou automne/ hiver) de luxe, au sein de l'enseigne, comportant une très large sélection de créateurs de mode et accessoires. Le rêve, sincèrement.
J'ai eu cette chance incroyable de découvrir cet univers, dans une ville que j'adore, entourée de gens adorables et très « friendly » grâce à Stylight. C'est un nouveau réseau social entièrement dédié à la mode et aux looks.
Logée à la sublime Villa Cora, sur les hauteurs de Florence, j'ai passé 3 jours et demi hors du temps, à mille lieux de mes petits tracas quotidiens. Assez superficiel, mais pas que : les rencontres que j'ai faites sont loin d'avoir été inutiles ou inintéressantes.
Là bas, j'ai pu apprendre des mots de français à Aimee (prononcer Oh-Mi) et sa soeur cadette Dani (prononcer Do-Ni), recevoir des conseils mode de Julie ou encore échanger avec l'adorable Betty et rire d'un rien avec Kristina. Bref, des filles en or, que j'ai hâte de revoir.
Le but précis de ce voyage, fut le « Style Lab » : dans un laps de temps limité, il nous a fallu choisir 3 tenues puis nous faire photographier dans Florence, où on voulait.
Mes 3 looks dans un prochain article… Patience !
It was the first time I was invited to the event organized twice a year by Luisaviaroma, in Florence.
This gathering allows international bloggers and journalists to discover the next Spring/ Summer (or Fall/ Winter) luxury brands, with a wide selection of fashion and accessories. Dream, really.
I had the incredible opportunity to discover this world, in a city that I love, surrounded by friendly people with Stylight. This is a new social network dedicated only to fashion and looks.
Housed in the magnificent Villa Cora, on the heights of Florence, I spent 3 and a half days out of time, miles away from my little daily hassles. Rather superficial, but not only : I met many awesome people are far from being useless or uninteresting.
There, I learned French words to Aimee and her younger sister Dani, got fashion advices from Julie or talk with the adorable Betty and laughed with Kristina. In short, stunning girls, I look forward to see again.
The purpose of this trip was the « Style Lab » in a limited time, we had to choose 3 outfits then be photographed in Florence, where we wanted.
3 looks in my next article… Patience!
LOOK 1 :
Bérêt Monoprix
Manteau via IKKS
Pull via Queen's Wardrobe (old)
Jupe en similicuir via Chicwish
Boots Urban Outfitters
Sac Diego Alexander Wang

LOOK 2 :
Manteau via IKKS
Chemise via Urban Outfitters
Pull en angora via Olive
Jean Lift Pin-Up Benetton
Boots Fericellie (old)
Lunettes Prada
Sac Diego Alexander Wang